As a Lakota woman artist, I want to be a link between the Native American culture and others.  I will be sharing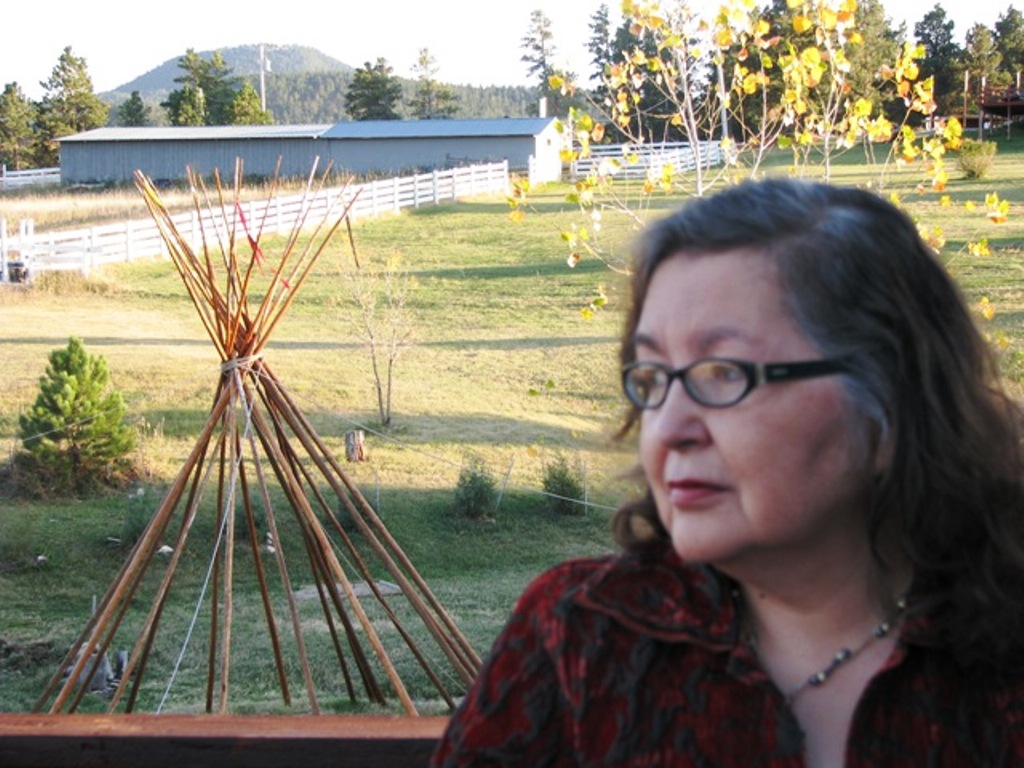 my family history.  As an elder I know the importance of not losing the oral stories and history of the elders.
Being an artist for many years, I want to paint a verbal picture for all who are interested.  I have selected special guests that provide insight into the aspects of Native American life today.  So I bring you stories old and new.
LL Ep-07 From New York City to the Pine Ridge Reservation
Dr. Tiffany Hale shares what it is like living in New York City during the quarantine.  Having to bike or walk everywhere has changed her day to day life.  She was born in Gallup, NM and has grown up with a strong connection to the Native American culture.  You will find out how her research at Yale University led her to Sandy's Great Grandfather on the Pine Ridge Reservation.
Music is sung and composed by Quincy GoodStar.
LL Ep-06 Swallow Tales by Sandy Swallow
Sandy shares family history.  Eli Swallow her great Grandfather was a Louisiana born Frenchman. How did he get to the Dakota Territory in the 1860's?  What was to become of a captured Confederate soldier?   Also learning about Oelrichs, SD which was a thriving town in the early 1900's.Swallow Tales begins with a cup of cowboy coffee in a kitchen on the Pine Ridge Reservation. Going back in time she realizes how her family history affected her art and Lakota values.
Music is sung and composed by Quincy GoodStar.
LL Ep-05 Mike Wise: A Heart for the Lakota
Mike Wise "A heart for the Lakota" Why did a famous WDC newscaster and columnist come to South Dakota?  Mike Wise has many impressive credentials in the sports world.  He is also a well-known author and is writing a book on Billy Mill's life.  Who are the warriors that are Billy's ancestors?  What are the three most memorable stores that Mike has written about?
LL Ep-04 Zack Ducheneaux: CEO of Intertribal Ag. Council
Zack is enrolled Cheyenne River Sioux Tribe.  He explains to us how and why Intertribal Agriculture Council was created.  A very interesting and informative conversation about our national food chain. What impact has the covid-19 virus had on it?  What are some of the problems Native American farmers and ranchers face that unique to them?  Learn the answers in this podcast.
LL Ep-03 Billy Mills Olympic Gold Medalist Pt. 2 –
"

Footprints

"
Why are his footprints so important to the 1964 Olympic Gold Medalist?    As other people have walked through his life, he will share their impact on him.  Learn of Billy Mill's Lakota values.  Lessons that he has learned and may apply to our footprints.
LL Ep-02 Billy Mills Olympic Gold Medalist Pt. 1
How did it come about that Billy is an enrolled Oglala Lakota?  Sharing some of intimate family history.  He comes from a long line of Warriors.  How is he and his wife handling the quarantine and his views on it?  What are some of the Lakota values that Billy has?  All these questions will be answered on this podcast.
LL Ep-01 Sandy Swallow's Introduction to Lakota Link
Sandy is an enrolled Oglala Lakota, she shares her life experiences as a Lakota Artist, mother & grandmother.  She is proud of her Native American heritage.   She is honest that life has not always been easy. You will enjoy her insights as well as the interviews of her guests.  Lakota Link is one way to learn about Native American culture.  You're welcome to walk this journey with her and learn how to apply Lakota values to your life.