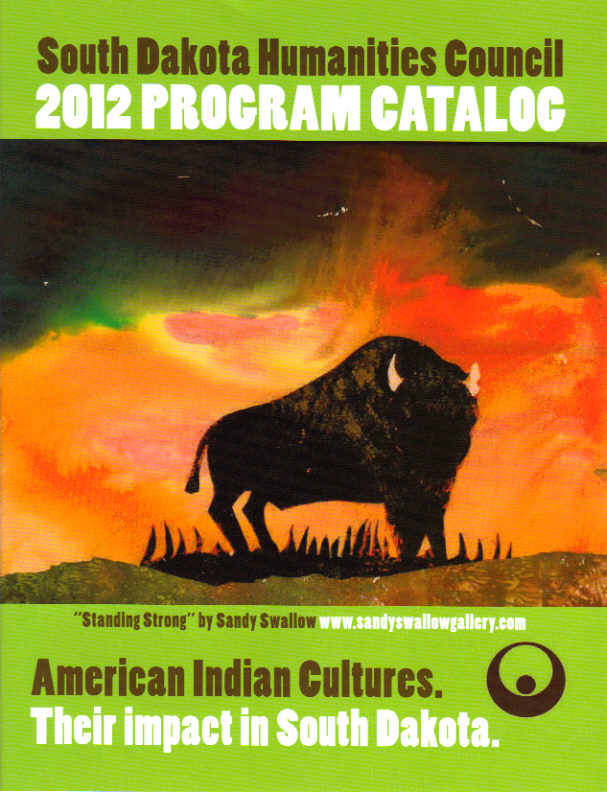 "South Dakota Humanities" Council 2012 Program Catalog, Cover
"The Art of Business" -Art of the Hills, Celebrating Black Hills Art & Culture, Winter 2008 p.10
"Sandy Swallow-Morgan" -Native Legacy, The Premier Great Plains Indigenous Art and Lifestyle Magazine, Summer 2008 p. 17
February 2009, selected by First People's Fund, for Artist Business Leader Fellowship grant.
2006 became a Signature Artist of the "Artist of the Black Hills".
May 2007, commissioned to provide art work for the United States Department of Agriculture (USDA Guide to American Indians and Alaska Natives Programs.) Art piece titled Soaring into the Future.
2004 Chamberlain, SD. Oceti Sakowin Experience: Remembering and Education Lakota, Nakota, and Dakota are exhibit.
2004, Traveling Exhibit, "Through Indian Eyes" Visual Reflections by Oglala Artists on the Legacy of Lewis and Clark.
2000 to 2001 Traveling Exhibit, "Heart Dreams and Legends", displayed throughout the United States and Australia.
1999, National Poster for the Department of Agriculture, "In The Eye of a Feather" for American Indian Heritage.
1998, "We are all Connected the Native American Experience" Hofstra University Hempstead, New York.
1997, Indian Art in Review Newberry Library, Chicago IL.